20 lots, 6km of fences and a bit of fear>, 2002, site-specific
back to main menu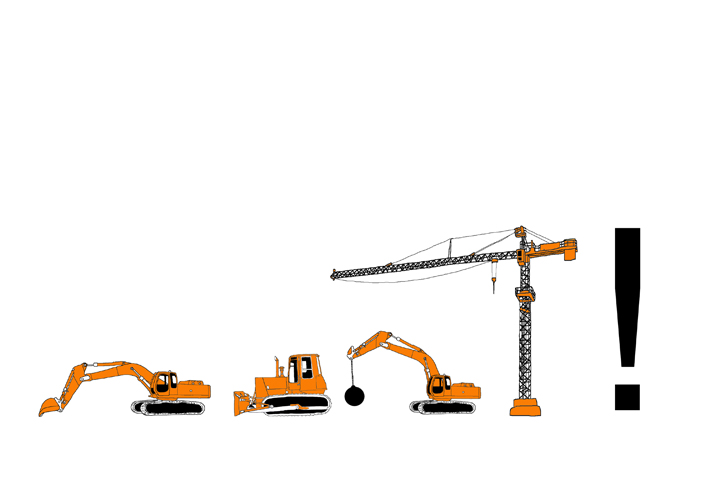 20 terreni, 6km di stecatti e un po' di paura és el resultat d'una recerca sobre l'espai: l'espai concebut i planificat per l'administració local, l'espai habitat i utilitzat per habitants i usuari, i l'espai imaginari. El 2002 durant una residència a UNIDEE (Universitaá delle Idee) a la Fondazione Pistoletto m'interessen els solars de Biella (Piemonte, Itàlia), la senyalètica, els obstacles i la narrativa que prohibeix l'accés a l'interior dels solars. Vaig investigar com havia estat la zona sud de Biella en el passat, els plans de l'administració local, per creuar aquestes dades amb els usos actuals i crear un joc de taula on els jugadors/ciutadans podien actuar sobre els espais, transformant i demolint... a través d'un exèrcit d'excavadores i altra maquinària pesada.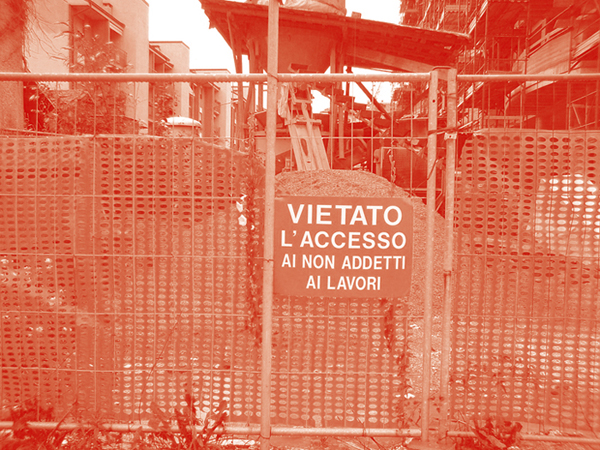 20 terreni, 6 km di steccatti e un po' di paura emerged from a research on space: the space as it is conceived and planned by the administration; the space as it is actually inhabited and/or used by dwellers; and the space as it is imagined.
In 2002, during a residency UNIDEE (Universitá delle Idee) at Fondazone Pistoletto I became interested by a series of empty lots of Biella (Piemonte, Italy), the signs, obstacles, and narrative that prevented the access to them. I researched what the area had been, how the local administration envisioned its development. I crossed the information with the current and informal uses of those empty lots, to create a board game where players/citizens could act upon those spaces, transforming, demolishing... through the means of a of excavators and heavy machinery, in addition to their imagination.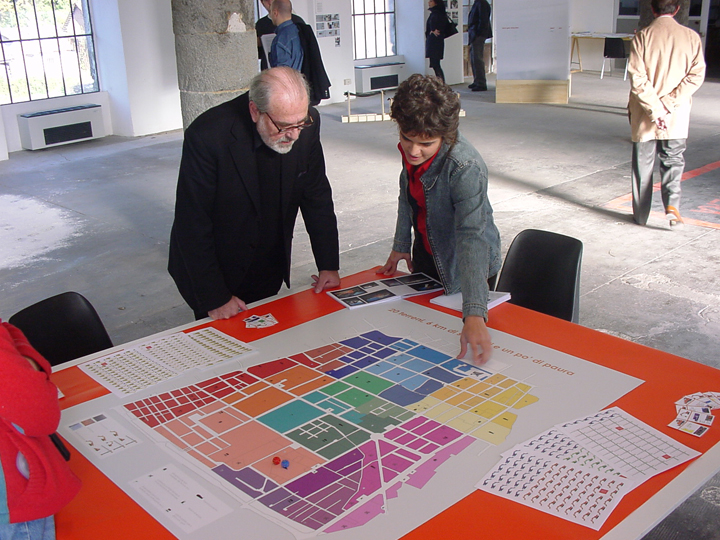 20 terreni, 6 km di steccatti e un po' di paura was first shown at a collective exhibition at Fondazione Pistoletto (2002), a solo show at Sala H (Vic, 2002). It was also shown in 2003 at the retrospective devoted to Michelangelo Pistoletto & Cittadellarte at MUhKA (Antwerp, Belgium), and within the collective exhibition Miralls Urbans at Sala Reus (Reus, 2003).